Technology & Benefits
Modified Atmosphere Gas 'N Go
Technology And Benefits
Fresh Tech Solutions has incorporated modern gas analyzing technology into each of the Fresh ProTech® modified atmosphere controllers. Unlike other systems that use timers to inject an approximated amount of CO2 into a pallet enclosure, the optimum product-specific gas percentage and sanitizer level can be set on the Fresh ProTech® controller and is injected into the enclosure quickly and precisely. Our patented process also improves efficiency and productivity through the use of automation and computers that save labor and improve accuracy. These automated systems are proven to save labor over competitor's methods without sacrificing the quality or benefits of the Fresh ProTech® MAP.
Proven Solutions For Perishable Products
Extending shelf life and controlling decay of perishable goods has always been a concern for growers, shippers as well as retailers. As products are transported farther with longer travel times, the need for a better solution becomes even greater. The Fresh ProTech® Gas 'N Go® Modified Atmosphere system addresses that need with state of the art processes and equipment that can be can be seamlessly integrated into existing operations. Science has proven that CO2 can inhibit the growth of Botrytis on perishable goods, if held at the proper temperature. The Fresh ProTech® process is a patented and proprietary technology designed to deliver CO2 and other gases, into palletized enclosures with superior results.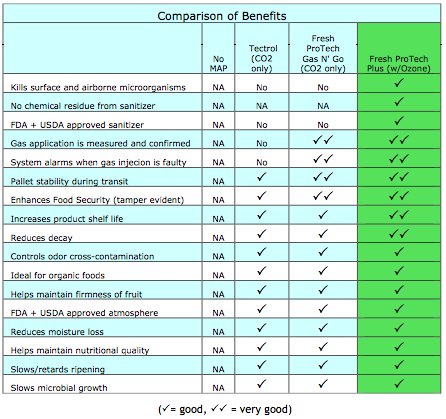 Fresh ProTech® Plus combines the use of MAP with Ozone, a highly effective sanitizer that is generated on-site from oxygen in the air. This requires no toxic chemicals and is safe for people, products and the environment. There are other companies who can deliver CO2 , N2 or Ozone, but we are the only one that has a patented delivery system to accurately dispense all of them in one application.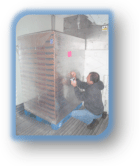 Fresh ProTech® technical services are available to work with customers on both ends of the supply chain to help assure quality arrivals.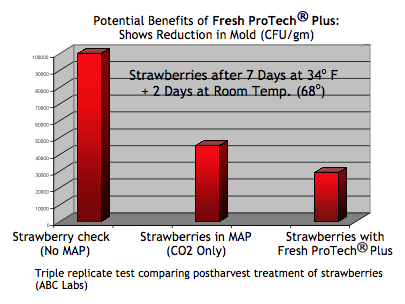 "Fresh ProTech® Modified Atmosphere Packaging has been scientifically proven to reduce shrink."
Fresh ProTech® Plus is an innovative process that combines modified atmosphere packaging, a proven science-based solution for protecting perishable products, and a highly effective sanitizer treatment. This patented process uses Ozone, a safe and powerful sanitizing agent that destroys microorganisms on contact, leaving no chemical residue.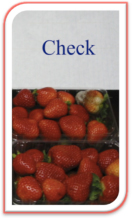 The check samples had more than three times the mold growth (cfu) as strawberries in Fresh ProTech® Plus MAP after 7 days at 34° and 2 days at room temperature (68°F), based on a triple replicate study.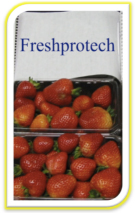 Fresh ProTech® with CO2 is a very effective alternative to Tectrol for the establishment of Modified Atmosphere.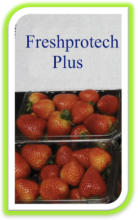 Fresh ProTech® Plus with Ozone is an even more effective Modified Atmosphere treatment than CO2 alone.

Good Quality Berries
+

+

7 Days transport & storage @ 34° F
+

2 Days store shelf @ 68° F
=

Less Shrink, more $$

Gas 'N Go Systems
Deliver accurate commodity specific atmosphere and sanitizing treatments into MAP pallet enclosures
Vac 'N Pac Systems
Provide vacuum infusion treatments in conjunction with a modified atmosphere packaging process
Plug 'N Play Systems
Offer both modified and controlled atmosphere options for storing pallets in a low cost and flexible manner
Chamber Systems
Afford very reliable CA storage solutions using modular chambers inside of exiting facilities
FAQ
To get additional information fill out the contact us form or check out frequently asked questions